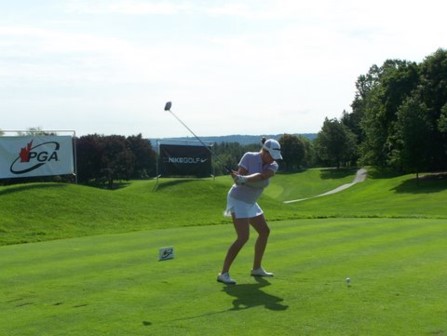 Shepley's Scorching Course Record 66 Leads the Field heading into Final Round
CLICK HERE FOR FIRST ROUND SCORES

CLICK HERE FOR FINAL ROUND TEE TIMES
CLICK HERE FOR HOLE BY HOLE SCORING
CLICK HERE FOR FIRST ROUND SCORING AVERAGE

Shepley's Scorching Course Record 66 Leads the Field heading into Final Round
DUNDAS, ON (August 11, 2009)
– On the hottest day of the summer, Jessica Shepley of Oakville, ON shot a sizzling course record six-under-par 66 in the first round of the 2009 Canadian PGA Women's Championship presented by NIKE Golf at Dundas Valley Golf & Curling Club in Dundas, ON. Trailing one shot behind Shepley is 1993 Champion Lanie Cahill, of Brockville, ON who shot a five-under-par 67.
Shepley, who has status on the LPGA Tour, carded five birdies and one eagle on her journey around the valley today. She took advantage of ideal scoring conditions consisting of zero wind and soft greens notching two birdies on the front nine and four on the back finishing with an eagle on 18 sinking a 30-foot putt for a blazing finish. Just days ago, Shepley also carded a 66 while playing a practice round with golf media.
"I feel good about my round today," stated Shepley who earned her LPGA status after finishing top-10 on the Futures Tour last year. "Being three-under on last two holes is always a great feeling, I played very steady and hit a lot of greens which makes a difference. I haven't really been focusing as much on contending and winning, but rather centering my attention on taking advantage of my good shots, focusing on doing the small things correctly." Shepley has been playing solid golf on the Duramed Futures Tour this year, making 12 cuts out of 13 events, with one top ten finish. Last year the Canadian ranked 7th on the Futures Tour earning over $35,000 placing her in the top ten on the LPGA's development tour.
Shepley works with Canadian PGA Member Sean Foley to rectify difficulties with her swing. "My swing has become much more consistent since working with Sean, I'm hitting my irons very solid now and my swing has just straightened out, making me more confident," stated Shepley. Foley is currently coaching a variety of talented PGA Tour professionals including Stephen Ames, Sean O'Hair and Hunter Mahan.
This is the first time Shepley has played in the event since she lost in a playoff against Marie-Josee Roleau in 2006.
Trailing behind Shepley by one stroke is 1993 Champion Lanie Cahill, a teaching professional at Brockville Country Club. Cahill carded seven birdies, shooting an outstanding five-under-par 67, something that came as a surprise to Cahill.
"I was on the verge of pulling out of the tournament last week due to some personal issues and the fact that I haven't played much golf at all this year, especially competitive golf," stated the 46 year-old. "I am really happy with the way I played today; I was very relaxed on the greens. Usually putting is my nemesis, it is the reason I'm not elsewhere in my golf career, but today I found a comfort spot in my left shoulder that is usually tense and it allowed me to perform."
Cahill claims her calmness arose after watching a deer scamper across the 14th fairway. "My husband passed away a few years ago from ALS, and he used to be a big hunter, so when I saw that deer, it was a good sign, and felt like he was checking in on me, it definitely calmed my nerves."
Low amateur of the day is Canadian National Team Member Stephanie Sherlock of Barrie, ON who posted the same score as Alena Sharp of Hamilton, ON at one-under-par 71 heading into the final round.
Defending champion Hannah Jun of San Diego, CA finished at two-over-par 74 and A.J. Eathorne of Penticton, BC finished her round at one-over-par 73.
The final round of the championship will take place tomorrow, with tee times starting at 7:30AM with the last group departing at 12:30PM. For pairings and results please visit
www.cpga.com
The Canadian PGA Women's Championship presented by NIKE Golf is a two day 36-hole stroke play championship at Dundas Valley Golf Club in Dundas, ON. The 22nd edition of the event offers a purse of $70,000 with $11,500 going to the winner.
The event is free for spectators to attend.
For directions, please visit the Dundas Valley website at
http://www.dundasvalleygolf.com/
About Nike Golf Canada:
Based in Thornhill, Ontario, Nike Golf Canada markets, sells and distributes industry leading Nike Golf golf equipment, apparel, balls, footwear, bags and accessories throughout Canada. Nike Golf is passionately dedicated to honouring and respecting the traditions and heritage of the game, and to providing committed golfers with the absolute best equipment in the game. For more information on Nike Golf Canada, visit
www.nikegolf.ca
. Editors and journalists seeking editorial information and downloadable images, visit
www.nikegolf.com/presscenter
.
About the Canadian PGA:
Established in 1911, the Canadian Professional Golfers' Association is a non-profit association comprised of approximately 3,500 golf professionals across the country with a mandate to promote and advance the game of golf, serving the needs of both its membership and the golf public through professional and junior golf development programs and high-calibre competitive events. The National Office is located in Acton, Ontario with nine Zone Offices across the country. For more information, visit
www.cpga.com
For more information contact:

Erica Duffy
Communications Coordinator
Canadian PGA
416.797.9814
erica@cpga.com
Brad Moyer
Manager of Events & Employment
Canadian PGA
416.797.7892
brad@cpga.com