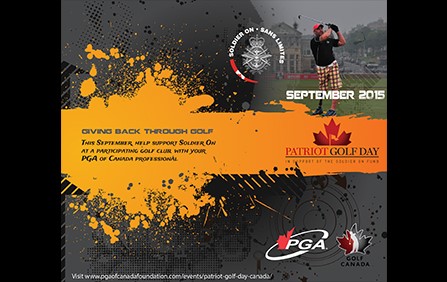 Patriot Golf Day Returns
Patriot Golf Day Canada once again takes place this September across the country.
Kicking off Labour Day Monday with a Patriot Golf Day Canada event at Hylands Golf Club in Ottawa, the grassroots golf initiative once again supports and honours Canadian military members.
Funds raised from this year's Patriot Golf Day Canada events will go to the Soldier On Fund, which supports service personnel and veterans of the Canadian Armed Forces to overcome their physical or mental illness or injury through physical activity and sport.
Since its inception in 2006, Soldier On has helped more than 1,300 ill and injured members to obtain sporting or recreational equipment, gain access to high-level training from world-class instructors and supported their participation in a wide range of structured activities including golf, alpine skiing, fishing and adventure expeditions.
The PGA of Canada and Soldier On have partnered on other initiatives such as the Soldier On Canada National Golf Camps, whereby PGA of Canada members provided facilities and instruction to over 40 Canadian Forces members over the past two years.
Golfers who play this September at participating Patriot Golf Day Canada courses across the country can donate any dollar amount to the initiative. Canadians will also have the opportunity to give directly to the initiative through a secure online donation website.
PGA of Canada members and golf facilities across the country looking to participate in Patriot Golf Day Canada, should register online by CLICKING HERE.

For more information about Patriot Golf Day Canada, CLICK HERE.