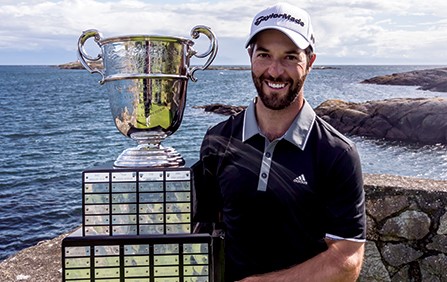 One Man Stands Alone
Marc-Etienne Bussieres started strong and ended stronger Thursday at PGA Assistants' Championship of Canada presented by Callaway Golf.
The 29-year-old from Club de Golf Longchamp carded a 5-under-par 67 at Camelot Golf & Country Club, bringing his two-day total to 7 under. Bussieres leads the championship by a pair of shots over Maple Downs Golf Club's Brad Kerfoot; the PGA of Canada's No. 1-ranked player Billy Walsh; 23-year-old Nicolas Fortin; and this year's PGA Championship of Canada runner-up Oliver Tubb.
"I had a good start, which was completely different than yesterday," Bussieres said about front-nine 33. "I hit two great wedges to a couple feet on both Nos. 1 and 2, made a bonus 25-footer on three and had another birdie on the fifth. So yeah, it was really nice to get off to a solid start."
Bussieres separated himself from the pack on the inward nine at Camelot with birdies on the tough 16th and 17th.
After a runner-up finish at last month's Canada Cup in Quebec and his strong play so far this week in Ottawa, Bussieres attributes much of trending play this summer to a positive attitude on the golf course.
"This year I've been pretty solid in the tournaments I've played thanks staying positive throughout the round, no matter what my score looks like," Bussieres said. "I've really started to notice some of my competitors make mental mistakes on the golf course and that usually leads to them getting down on themselves and having poor scores," he said, adding, "so I've really made it my goal to stay mentally strong no matter what adversity I might face playing golf."
Joining Bussieres in Friday's final group of the championship with be Kerfoot and Walsh, who said he actually likes the idea of playing from behind.
"I actually prefer to be chasing because it gives me more of an aggressive mindset," the 2013 PGA Assistants' Championship of Canada winner said. "I have no issue being two shots back out there because it gets me more in the mindset of making more birdies."
Jean-Hubert Trahan of Club de Golf Laval Sur Le Lac and Wolf Creek Golf Resort's Eric Locke are at 3 under, T6, with two-time PGA Assistants' Championship of Canada winner Brian McCann and Le Versant's Christophe Belair are at 2 under and T8. Mathieu Perron (Club de Golf Laval Sur Le Lac), Nick Kenney (The National Golf Club of Canada) and Scott Borsa (Red Deer Golf and Country Club) round at the top 10 at 1 under.
FOR THE FULL LEADERBOARD AND FRIDAY'S SECOND ROUND TEE TIMES, CLICK HERE.
In the Inter-Zone competition (compiled of four players on each team representing their respective PGA Zone) the squad from Ontario (Walsh, McCann, Kenney and Keir Smith) bested Team Quebec (Fortin, Belair, Clement Herviou and Kevin Senecal).