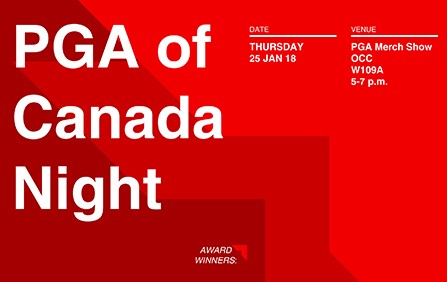 Celebrate PGA of Canada Night
With PGA of Canada Night just a little more than a week away, anticipation is quickly building for the not-to-be-missed annual event.

More than 400 golf industry professionals are expected to be in attendance for the event, which takes place Thursday, Jan. 25 from 5-7 p.m. at the PGA Merchandise Show in Orlando, Fla.

"Over the past couple of years PGA of Canada Night has truly grown into a must-attend event that celebrates golf in Canada," says PGA of Canada CEO Kevin Thistle. "There's a definite buzz in the air and I just love how the entire Canadian golf industry comes together to socialize and celebrate."

As part of the evening's festivities, the PGA of Canada's National Award winners and newest PGA of Canada Hall of Fame inductees will be honoured.

"This year's PGA of Canada national award winners are wonderful golf professionals and on behalf of the national board of directors' and the association's 3,700 members, I look forward to honouring them at PGA of Canada Night," said PGA of Canada president Steve Wood.

This year's winners include:
Murray Tucker Golf Professional of the Year
Andrew Steep, Southwood Golf & Country Club, Manitoba
Moe Norman Candidate for Membership of the Year
Sean Murray, Bearspaw Country Club, Alberta
Stan Leonard Class "A" Professional of the Year
Sean Thompson, Calgary Golf & Country Club, Alberta
Pat Fletcher Retailer of the Year
Mike Matuch, Bearspaw Country Club, Alberta
George Knudson Teacher of the Year
Matthew Robinson, Rideau View Golf & Country Club, Ontario
Tex Noble Professional Development Award
Jason Schneider, Wildwood Golf Course, Saskatchewan
Ben Kern Coach of the Year
Paul Horton, Heritage Pointe Golf Academy, Alberta
Jack McLaughlin Junior Leader of the Year
Kevin Haime, Kevin Haime Golf Centre, Ontario
Mike Weir Player of the Year
Pierre-Alexandre Bedard, Club de Golf Cap Rouge, Québec

Sam Young and James Collins will be inducted into the PGA of Canada Hall of Fame, joining an impressive list of legends.

PGA of Canada Night takes place in Orlando, Fla., on Thursday, Jan 25, 2018, at the PGA Merchandise Show (Orange County Convention Centre) at 5 p.m. in room W109A.

For those who aren't able to attend, watch the PGA of Canada Facebook Live event HERE.