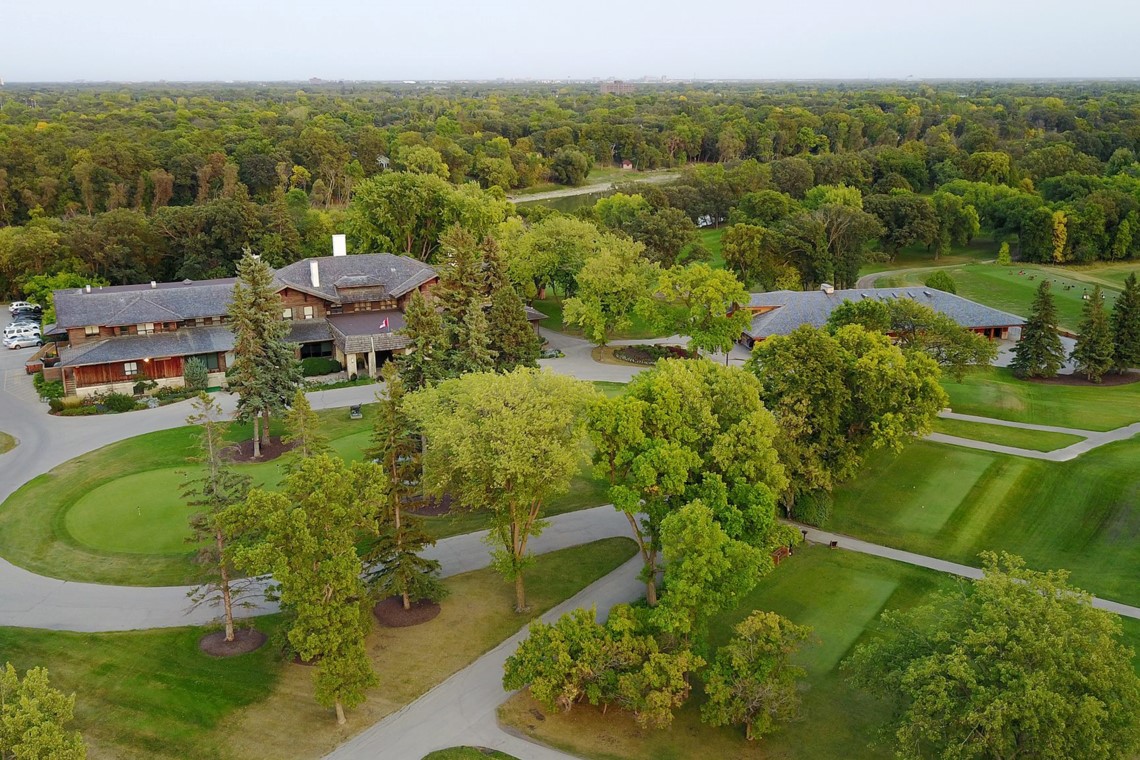 Director of Membership & Communications
Founded in 1904, St. Charles Country Club is a 27-hole private club Located in Winnipeg, Manitoba. The property boasts 27 holes of golf complimented by outstanding practice facilities and a beautiful clubhouse facility. St. Charles has a rich tradition and history highlighted by the hosting of several national and international championships. These include the 1952 Canadian Open, 1992 Canadian Women's Open, 2000 AT&T Canadian Seniors and most recently the 2010 CN Canadian Women's Open.
The golf courses are designed by some of the most renown architects in golf history. Donald Ross in 1919, Dr. Alister MacKenzie in 1929 and Norman Woods in 1954. St. Charles is the only golf property in the world to have Ross and MacKenzie design their courses and is the only Alister MacKenzie design in Canada. The Club is embarking on an exciting restoration of our Mackenzie and Ross nines led by our consulting architect Jim Urbina. The project is scheduled to begin May 1st, 2021.
Our Clubhouse operation is dedicated to outstanding food and member experiences. It is perfectly suited to accommodate all our member's needs, as well as hosting large social gatherings. The Clubhouse is complimented by our famous Garden, a patio perched adjacent the 9th green on the Ross nine that is a favorite spot for all our members during the golf season. As an upscale private club, we pride ourselves in the highest standard for food quality and member service.
Location

St. Charles Country Club - Winnipeg, Manitoba

Posted

2021-01-06

Deadline

2021-01-31

Job Summary

St. Charles is seeking an energetic and outgoing person to fill the role of Director of Membership & Communications. This is a new position at the club. They will lead the development and implementation of all membership programs, projects, and activities. Working closely with the membership committee, this individual will be responsible for marketing and recruitment of members. The successful candidate will lead the development and execution of the club's communication strategy. The Membership & Communications Director will report directly to the clubs Director of Golf and Chief Operations Officer.

Responsibilities

It is the Director of Membership & Communications responsibility to understand the concept of a premier private club, the club's vision, mission, and core values and how such a club benefits the individuals and families invited to membership. To achieve the club's membership goals (recruitment and retention), the membership director must adhere to the club's membership by-laws and policies.

Membership

Coordinate, promote and administer membership programs and sales activities to achieve and maintain a full membership.
Contribute to initiatives to reduce member attrition, generate referrals and to increase new member recruitment.
Works with the accounting department to process new members, member transfers, etc. and is responsible for maintaining accurate membership reports
Maintain the Club's database. Current on member resignations, transfers, address, contact information and photographs.
Prepare membership analysis reports. Communication with club departments on all changes within the membership.
Contribute to the development of social activities and social calendar for the club.
Contribute to the establishment of annual and long-term membership targets and benchmarks.
Attend membership committee meetings. Attend other club committee meeting and board meetings when required.
Conduct new member orientation sessions to familiarize them with the club, our services and policies.

Marketing

Prepare all marketing materials to be distributed to the membership.
Visible and present at major member golf and social events.
Organize club member packages and maintain content.
Creation, distribution, and analysis of club surveys.
Interact with perspective members, providing all membership information and tours of the club.
Assist with fundraising initiative for our two major charity golf events.
Gather member feedback through the development of surveys and direct communications.

Communications

Work with fellow management staff to establish and execute an internal and external communication plan for the club.
Compile content and create layout for monthly newsletter. Write various internal and external communications for email, website and provide proofreading.
Responsible for scheduling, content, and management of all club social media accounts.
Manage and create content on club website and mobile app.
Ability to create and deliver presentations to individuals and groups.
Gather member feedback via surveys or personal interaction on club events and services.
Coordinates all club public relations efforts and media events.

Qualifications

Candidate will have 2-5 years experience in marketing and communications.
Experience in the golf industry is an asset but not required.
Updated software and computer skills.
Proficient in web-based content management systems and Microsoft Office applications.
Experience in Jonas software an asset but not required.

Skills and Assets

Excellent organizational skills.
Proficient written and oral communication skills.
Cooperative and willing to work with all departments at the club.
Energetic, enthusiastic, and service oriented. Enjoy interacting with people and skilled at building relationships.
Highly effective multi-tasking, prioritization, and time management skills

Compensation

Competitive salary and bonus structure

Benefits/Perks

Group Health insurance coverage
3 Weeks vacation
Management meal program
Golf course access
RRSP contribution

PGA of Canada Specialization

Management & Leadership

Course Website

Contact Information

Applications will be accepted until January 31st , 2021.

Applicants can email or mail their CV, cover letter and references to: Cory Kartusch Director of Golf and COO St. Charles Country Club. Email: cory.kartusch@stccc.ca

Accommodation

We are an equal opportunity employer and are committed to creating an accessible and inclusive organization as well as providing barrier-free and accessible employment practices in compliance with relevant legislation. Should you require Code-protected accommodation through any stage of the recruitment process, please make them known when contacted and we will work with you to meet your needs. Disability-related accommodation during the application process is available upon request.