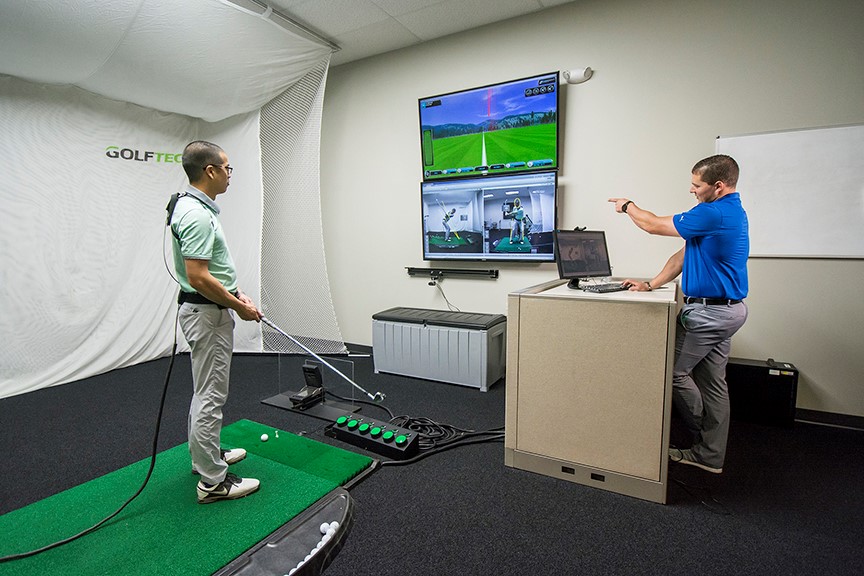 Coach (MOVING ALLOWANCE PROVIDED)
About GOLFTEC
We align with the PGA of Canada and PGA of America. Our facilities are PGA recognized instruction facilities. All coaches in Canada are PGA of Canada Members. We combine indoor and outdoor instruction employing over 600 PGA Professionals in 189 locations across North America. Over the past 25 years, GOLFTEC has worked with players of all levels using state-of-the-art motion analysis equipment, high-speed digital video, launch monitors and other fact-based diagnosis tools.
GOLFTEC is the ideal employment opportunity for PGA of Canada Members who want to build their careers around coaching while maintaining a work life balance. Our roles support your lifestyle:
• Full time work year-round.
• Consistency in work scheduled.
• Annual vacation of 3 weeks.
• Comprehensive benefits package (health & dental)
• Flexible start date
For more information visit: https://www.golftec.com/about-golftec
Location

GOLFTEC, Winnipeg, Manitoba

Posted

2020-07-30

Deadline

2020-10-31

Job Summary

As part of our continued mission to help golfers improve across Canada, GOLFTEC Prairies currently has an opening for a Coach position in Winnipeg MB. This is a salaried position with great opportunity for merchandise bonuses and lesson commissions. A successful Coach in Winnipeg can look to make in excess of $55,000 per year with the right focus.

Our Winnipeg Centre is offering a moving allowance to join our TEAM & will pay a pro-rated amount of your PGA of Canada dues in your first year of employ (full in subsequent years). You will accelerate your coaching career via GOLFTEC's industry-leading professional development, seasonal web-based training, frequent peer interactions with coaches near and far, and having a singular focus on coaching in your workday. Our rapid growth, especially in Canada, provides excellent advancement opportunities for the career minded individual.

The Winnipeg Centre is a first-class Improvement Centre looking for the right individual to join the TEAM. Our students get better because their Coaches care about their game. If you have the same desire to see golfers improve this is a fantastic opportunity for you.

Responsibilities

Selling and recommending appropriate GOLFTEC services for each client.
Taking an active role in generating demand for lesson and merchandise sales.
Golf coaching, player development and custom club fitting using GOLFTEC tools.
Use professional judgment and expertise to recommend lesson content.
Participate in marketing and promotional activities as requested.
Maintain GOLFTEC Improvement Centre equipment in working order.
Assist in day to day operations of GolfTEC Performance Centre.
Perform daily opening and closing functions.
Actively participate in continuing education to enhance Coaching skills.
Any additional tasks requested by the employees Management Team.

Qualifications

PGA of Canada Member in good standing with a strong passion for teaching.
PGA of Canada Coaching Specialization and/or Teaching Specialization and/or teaching experience are all considered assets but not mandatory.
Exceptional interpersonal skills and communication skills

Compensation

Salary TBD (to commensurate with experience)
Teaching Bonus (based on lessons taught and sales)
Merchandise Commission (based on equipment sales)

Benefits/Perks

Equipment opportunities but not guaranteed.
Education / tournament allowance.
3 weeks vacation (years 1-5).
PGA Dues paid by employer (pro-rated year 1).
Health and Dental benefits.
Clothing provided by GOLFTEC Prairies.

PGA of Canada Specialization

Coaching

Course Website

Contact Information

You can view the PDF job description here.

Please submit your resume in strict confidence to Mike Marion or Josh Fleming.

You may also contact either. with any questions that you may have.

Mike Marion, Centre Manager, GOLFTEC Winnipeg - Email: mmarion@golftec.com or Phone: 204-275-1735

Josh Fleming, Operations Manager, GOLFTEC Prairies LTD. Email: jfleming@golftec.com or Phone: 587-999-8797

Accommodation

We are an equal opportunity employer and are committed to creating an accessible and inclusive organization as well as providing barrier-free and accessible employment practices in compliance with relevant legislation. Should you require Code-protected accommodation through any stage of the recruitment process, please make them known when contacted and we will work with you to meet your needs. Disability-related accommodation during the application process is available upon request.