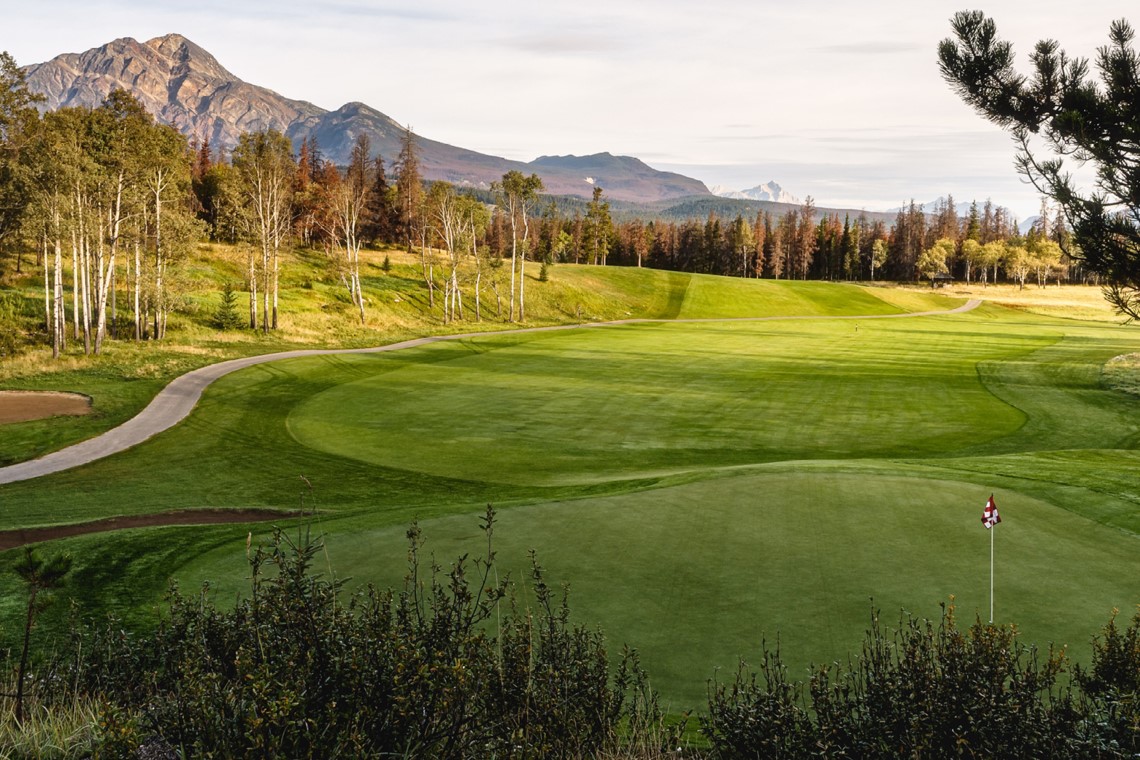 Associate Golf Professional
About:
The Jasper Park Lodge Golf Course was established in 1925. It took 50 teams of horses and 200 men working together for a year in order to clear the land of boulders and debris to prepare it for what would become one of Canada's premiere golf courses. Since the opening of the mountain golf course in 1925, this jewel set deep in the heart of the Canadian Rockies has been the setting of unforgettable memories for all of those who come to play.
Stanley Thompson, Canada's master golf course architect, displayed some of the finest work of his career with this design. The 18-hole layout offers elevated tee boxes, dramatic bunkering and holes aligned with distant mountain vistas. He built wide fairways that carve through thick forest, and maintained a partnership with the environment's natural contours, blending beautiful landscapes with challenging terrain. As a result, few golf courses in the world can match the rugged majesty of this national treasure.
Fairmont Jasper Park Lodge Golf Club is rated by SCOREGolf Magazine as the #1 Best Golf Resort in Canada. Most recently, although annually among the best Public Courses in Canada, in 2019, SCOREGolf Magazine rated Fairmont Jasper Park Lodge Golf Club the #2 Golf course in Canada.
Website: https://www.fairmont.com/jasper/golf/the-fairmont-jasper-park-lodge-golf/
Facebook Page: https://www.facebook.com/FairmontJasperParkLodge
Job Summary:
Associate Golf Professional (April 13, 2020 - October 23, 2020)
As Associate Golf Professional at The Fairmont Jasper Park Lodge Golf Resort, you will have the opportunity to create lasting memories for our guests while they enjoy one of Canada's top-rated golf courses. By being an ambassador for our hotel, and by providing warm and engaging service, you will be able to create a golf experience like no other for our guests.
Summary of Responsibilities:
Reporting to the Head Golf Professional, responsibilities and essential job functions include but are not limited to the following:
Consistently offer professional, engaging and friendly service

Ensure smooth operation of golf course operations on a daily basis

Ensure guest satisfaction at all times

Train, coach, develop and supervise all golf operation colleagues (Golfer Services, Front Shop, Starters & Players Assistants)

Assist with scheduling and following approved labour budget, guest check-in experience, inventory controls, merchandising, daily cash out, payroll and revenue management

Assist with tournaments and group outings to ensure proper execution and coordination

Assist with running all member leagues, junior clinics and lesson programs

Other duties as assigned

Follow department policies, procedures and service standards

Follow all health & safety polices set forth by Fairmont Hotels & Resorts
Qualifications:
Previous experience, minimum of 2 years, in a managerial or supervisory position within a major golf operation is required

Private Club Experience is recommended but not an asset

Member, in good standing, of CPGA, Class A Professional is recommended

Experience as a golf instructor

Degree/Diploma in a related field is preferred

Previous point of sale system experience

Excellent communication skills, both verbal and written, as well as excellent organizational skills

Strong interpersonal and critical thinking abilities

Highly responsible & reliable

Ability to work well under pressure in a fast-paced environment

Ability to focus attention on guest needs, remaining calm and courteous at all times
Salary & Benefits:
$1650.00 Biweekly, the equivalent of $42,900.00 gross per annum

85 % Lesson Revenue

Meal Plan – three meals per day

Clothing Package

Equipment Package

Subsidized Staff Housing

Health & Dental Benefits

Dry Cleaning

2020 CPGA dues reimbursement

Opportunity for winter year-round employment (Winter Activity Centre) November- March
Deadline for Application Submission: March 27, 2020
To view to PDF job description, please click here.
Contact: Tahlon Sweenie
Fairmont Jasper Park Lodge
The Fairmont Jasper Park Lodge appreciates all applicants but only those being considered for the position will be contacted for an interview.
Accommodation
We are an equal opportunity employer and are committed to creating an accessible and inclusive organization as well as providing barrier-free and accessible employment practices in compliance with relevant legislation. Should you require Code-protected accommodation through any stage of the recruitment process, please make them known when contacted and we will work with you to meet your needs. Disability-related accommodation during the application process is available upon request.
Location

Jasper Park Lodge Golf Resort, Jasper, Alberta

Posted

2020-03-12

Deadline

2020-03-27

Start Date

2020-04-13