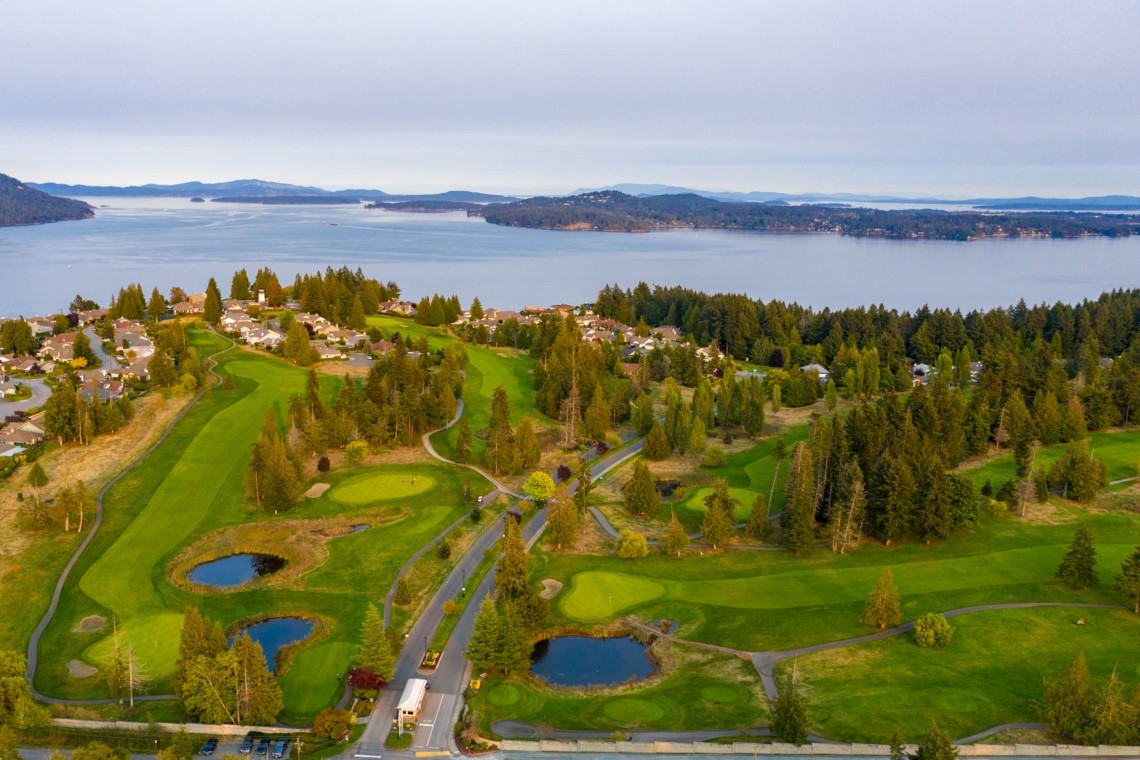 Assistant Professional
The Arbutus Ridge Golf Club is located in the seaside community of Cobble Hill, a 25 minute drive from the outskirts of Victoria, 45 minutes from Nanaimo and just 15 minutes from the cultural city of Duncan. The Bill Robinson design 18-hole golf course is complimented with the renowned, Satellite Bar & Grille and Indoor Tennis Facility.
Arbutus Ridge Golf Club recently won the PGA of BC Golf Shop of the Year for Vancouver Island.
Location

Arbutus Ridge Golf Club - Cobble Hill, BC

Posted

2021-10-13

Deadline

2021-11-19

Job Summary

The Arbutus Ridge Golf Club is looking for the services of an energetic Golf Professional for the 2022 golf season & beyond. We are looking to help mentor eager Golf Professionals focused on becoming General Managers, Head Golf Professionals, or Directors of Instruction.

The successful candidate will have ample opportunity to teach, grow lesson programs & contribute to the success of the Golf Shop This position is ideal for someone who is looking to take the next step in their career.

POSITION OBJECTIVE

To ensure the proficient operation of the Golf Shop & Tee Sheet.
To ensure that exceptional guest service is provided & that our guests enjoy a great golf experience.
To ask questions about the industry, get involved in projects & take on new responsibilities which will help the candidate grow as a professional.
To ensure the proficient operation of the Golf Shop, tee sheet & overall guest satisfaction.
To coach, develop & train Team Members.
To ensure that exceptional guest service is provided & our guests enjoy a great golf experience.
To teach & grow instructional programs.

Responsibilities

1. Expectations

Arriving on time & in a presentable manner.
Maintain & enforce the highest standards of quality, service & appearance.
Work with all Team Members to maintain high standards of cleanliness, proper storage of items & proper close procedures.
Ensure each guest receives consistent services & product.

2. Responsibilities

Assisting in keeping the Golf Shop tidy & merchandised in alignment with the retail sales plan.
Maintaining displays for aesthetics & maximizing retail space.
Selling merchandise including clothing, accessories, golf equipment, etc.
Opening/Closing Golf Shop in a timely & effective manner.
Cashing in/out accurately & efficiently.
Acting as "Manager on Duty" when required.
Maximizing revenue potential of the Golf Operations Department.
Assisting with ordering, receiving, pricing & inventory control.
Working effectively with other team members in all five departments.

3. Guest Experienc

Ensuring that all guests are checked in accurately & accounted for.
Attending to guest requests & complaints as required.
Accurately booking tee times for guests in person and over the phone.
Effectively communicating with outside services, & player assistants to ensure guest satisfaction & efficient timing.
Working effectively with other team members in all five departments.
Booking & ringing through golf lessons as required for guests.
Accurately ordering custom request for members & guests.
Assisting with large groups & tournaments to ensure that guest' expectation are exceeded.

4. Teaching & Playing

Teaching lessons to guest & members as required.
Assisting with Junior programs & lessons.
Playing with media/writers/members as required.
Custom fitting golf club through various fitting systems from member & guests.
Taking a leading role in our Men's & Ladies Night programs.

Qualifications

Knowledge

Education related to the industry.
Background experience in the golf industry.
Member in good standing with the PGA.
Teaching & Coaching Certification from the PGA.
Background knowledge of computerized Point of Sales Systems is a bonus.
Problem solving & decision-making abilities.
Basic Microsoft Office skills.

Skills and Abilities

Passionate & Friendly.
Exceptional communication skills.
Quick evaluation & decision-making abilities.
Strong comprehension of English Language (oral & written).
Must be able to work in a fast-paced environment.
Must be organized & maintain a positive attitude.
Ability to work in an unsupervised environment.

WORK CHARACTERISTICS

May require heavy lifting.
Must be flexible and open to working weekends, evenings & holidays when necessary.

Compensation

$20 per hour or more depending on skill & experience. Potential salaried position.

Benefits/Perks

PGA Dues paid for by club.
Medical Benefits available after three months of full-time employment.
Titleist Equipment Package
Education Stipend
Complimentary Golf & Tennis.
Option to purchase merchandise from the Golf Shop for cost + 10%.
Discount on food in the Satellite Bar & Grille for you and up to three guests.

PGA of Canada Specialization

Golf Operations

Course Website

Employment Duration

This position is Full Time and 12 months

Contact Information

Please send your resume and cover letter to:
Attn: Andrew Hajer, Head Golf Professional ahajer@arbutusridge.com

Posting Closes: November 19, 2021

Click here to view the PDF job description

Accommodation

We are an equal opportunity employer and are committed to creating an accessible and inclusive organization as well as providing barrier-free and accessible employment practices in compliance with relevant legislation. Should you require Code-protected accommodation through any stage of the recruitment process, please make them known when contacted and we will work with you to meet your needs. Disability-related accommodation during the application process is available upon request.